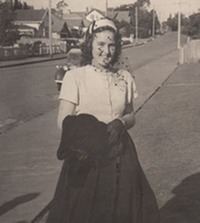 Annie Clifforth began her carrer in Millinery in 1996 as a student under Waultrad Reiner and Louise MacDonald at the Melbourne School of Millinery.
Her extensive experience has been gained through working as a milliner at JD Mannington and Serena Lindeman Millinery.  The Annie Clifforth Millinery label was born in 1999 and has been steadily growing ever since.
Over the past two decades Annie has formed an outstanding reputation that has been recognised at significant events.  With a strong affiliation to the health care industry Annie Clifforth Millinery regularly donates pieces to fund raising causes, including St Vincent's Hospital and Breast Screen Victoria. 
To Annie Clifforth, millinery is an expression of the soul. It is a creative outlet which builds strength and joy, in the minds and hearts of both the designer and the client.
Annie Clifforth's designs are intricately created with love, care and attention to detail.  Inspired by her family, her clients and her own life experience, Annie Clifforth's creations are intimate pieces that represent the union of classic fashion and haute couture, whilst capturing the personality of the person wearing them.  Annie's designs draw on her knowledge of the history of millinery and often incorporate vintage materials collected over the years from friends, family and vintage stores across the world.  The flow and feel of the materials used for each piece determines the statement it makes.  Annie Clifforth uses the highest quality materials and all pieces are made by hand, drawing on current fashion trends and classic style.